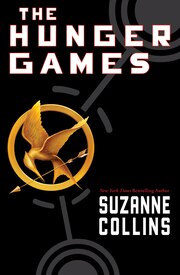 Book club is Thursday and we will be discussing The Hunger Games by Suzanne Collins. If you haven't heard of this book you've been living under a rock. :) All the kids are talking about this trilogy. It's one of those series both kids and their parents can read.
Over the summer I devoured this novel and over the last week and a half I borrowed the other two books from a friend (Catching Fire and Mocking Jay). Both equally as wonderful. I have to say these are the best books I have read in awhile. My whole class at school has been reading them and we are all so excited to talk about them and pass them onto each other!
The setting is post-apocalyptic with thirteen districts within what used to be North America. 75 years ago there were uprisings against the Capitol and to rebuke the districts for this rebellion, each year the names of one female and one male between the ages of 12 and 18 (or something like that) are drawn from each district. These "tributes" as they are called must compete in the Hunger Games and only one tribute can live. It sounds like a crazy idea for a novel (and a bit morbid, at that) but
trust me
- they are amazing!! So amazing that the only thing really on my Christmas list this year is the box set on sale now at Chapters/Indigo.
The trailer for the movie coming out in March looks just as amazing. Have a peak. Read the books.